Experience excellence in service!
We offer a wide variety of top quality services to fit your style, help you determine the best services for your needs and deliver the kind of quality and value you can only get from a trained professional. Check out our complete service menu below to get a feel for what we do. Please note: Service prices and availability are subject to change without notice.
Facials, Wraps, and Makeovers
Experience our professional facial products and services. Our esthetic staff will apply your choice of facial products to exfoliate and cleanse your pores, balancing your skins natural oil content and leaving you feeling refreshed and invigorated. Complete with a makeover... bring out the inner beauty by our artists.
Don't let the name BASIC Facial fool you! This is not your traditional facial service and care. But a new way of servicing and caring for the most important part of you - your face. YOU can achieve even skin tone, YOU can enhance softer looking skin, YOU can improve blood circulation, YOU can decrease wrinkles and YOU can hydrate your skin. It's the new YOU... Get BASIC Facial to start your day, your year, your YOU. Great for all skin types. (45 minutes)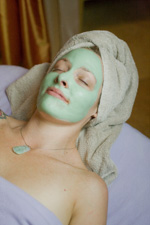 Exfoliates surface skin cells, a gentle massage, tone, herbal aloe mask and aloe gel or aloe lotion. Great for all skin types. Herb and Honey Facial is beyond your typical cleanse and care for your skin. It also offers a relaxing experience with a hint of blueberry as it revives your mind, body and spirit. You will look refreshed and your skin will feel super soft and smooth. Reserved this service today and treat yourself to an eyebrow arch, too! (60 minutes)
Have skin lesions that keep your skin from the looking and feeling you want to display?
Don't let your face appearance get you down. The Acne/Blemish Facial helps to remove dead skin cells, it will also open the pores, as well tightens & tone the skin. Hydrates while promoting new cell growth. Aloe gel or moisturizing aloe milk to seal pores. This treatment includes 6 main components:
improve circulation
deep pore cleanse
sealer for the pores
a combination of moisturizers to caress the skin for a softer and smoother feel
a calming massage
stress-free zone for a complete relaxing facial experience
Want a longer effect? Request a home care kit designed, specifically for YOU!
(50 - 75 minutes) add an aloe mask for $20.00
Waxing and Non-Waxing Hair Removal
Professional waxing and non-waxing services are a great way to remove unwanted hair growth on any part of your body. These services will leave your skin smooth and supple for weeks or longer depending on the body part (unless otherwise stated), and the hair will generally grow back lighter and softer than if you were to shave. I will provide safe, professional results in a private setting.
Full Face
(Includes eyebrows arch, lip (upper & lower), chin, cheeks, and sideburns)
Eye beautification services are designed to even out your skin tone under your eyes and on your eyelids as well as to reduce the appearance of wrinkles around your eyes.
Body Wrapping and Herbal Wraps
Body wrapping and herbal wrapping services are designed to achieve thinning effects on your body and improve skin tone and reduce the appearance of wrinkles and cellulite. Experience this unique service performed by competent therapists in a clean and comfortable setting.

Full Body Wrapping - 60 minutes
Core Body Wrapping - 45 minutes


Face and

Chin Skin Firming - 45 minutes
Under Arms Wrap - 30 minutes
Get the eyebrows you always desired. No more blotchy, barely there, thin looking and those in-between eyebrows disasters. Let me correct and show you how to keep them looking flawless. Full eyebrows arch your choice of tweeze, razor, or wax.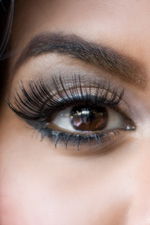 Alright! Are you struggling to find the right shape brows that fits your face, personality and style? Eyebrows shaping is an art and requires customization for each person. These services may include the use of a razor, tweezers and/or wax of the brows to remove unwanted hair and sculpt perfect eyebrows for you.
ATIKA Styles Beauty Salon is the place to get all of that an more. Come experience the Wow BROWS from Sonseeahray, the eyebrows specialist! Click BOOK NOW below!
Return to Top
Service Policy
If you are unable to keep your appointment, please contact us prior to 48 hours to avoid cancellation fees. A full modus operandi for patron to cancel can be viewed in-salon or while booking online. Please call (216)459-8874, email info@atikastyles.com or use the button on this page to schedule today. Currently no Walk-ins until further notice. Same day appointments are welcomed with a three-hour notice!