Experience excellence in service!
We offer a wide variety of top quality services to fit your style, help you determine the best services for your needs and deliver the kind of quality and value you can only get from a trained professional. Check out our complete service menu below to get a feel for what we do. Please note: Service prices and availability are subject to change without notice.
Spa service incorporating shampoo, scalp and shoulders massage, hair cut, line up, facial grooming, and finish style.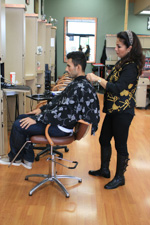 $40.00 and up
Sport Packages from $175.00
Do you play football, baseball, basketball, soccer, or hockey? or Are you a sports guru? Whatever your answer is you can agree sports are exhausting. Sometimes you need downtime to recover from the disappointing plays, celebrating victories, and get ready for the next Big Game Day.
Welcome to the one and only men's sport spa experience. ATIKA Styles has the best seat in the city. Select from a wide-range X's and O's specifically made for your next move. Sport fanatics or leisurely observers can have your favorite picks of the season. It's All About YOU spa services like hair cut, color, beard and mustache groom, facial, neck and shoulders massage and much much more. If you're a Browns, Indians, Cavalier guru, a combination of the three or our rival. ATIKA Styles will get you ready for yhe next quarter.
No need to worry, ATIKA Styles has something for all sports lovers. So, pick your sport and call to reserve your seat, now!
Beard Color
Mustache Color
Beard Color and Mustache Color
Return to Top
Service Policy
If you are unable to keep your appointment, please contact us prior to 48 hours to avoid cancellation fees. A full modus operandi for patron to cancel can be viewed in-salon or while booking online. Please call (216)459-8874, email info@atikastyles.com or use the button on this page to schedule today. Currently no Walk-ins until further notice. Same day appointments are welcomed with a three-hour notice!