Experience excellence in service!
We offer a wide variety of top quality services to fit your style, help you determine the best services for your needs and deliver the kind of quality and value you can only get from a trained professional. Check out our complete service menu below to get a feel for what we do. Please note: Service prices and availability are subject to change without notice.
Hair Extensions
Tape Extensions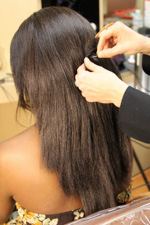 From $320
Consultation and non-refundable deposit required.
Hair extension services employ realistic looking human hair to give you beautiful long hair without the wait. Extensions can be added to allow dramatic, color without commitment, special effects, and up dos which may not be possible with your natural hair length and type. Add a few wefts or do the whole head, it's your choice. Play around with the many styles and colors selections available for that special event or just to feel extra special.
Types of hair extensions performed:
Tape
Bun
Commitment-Free Color
Return to Top
Service Policy
If you are unable to keep your appointment, please contact us prior to 48 hours to avoid cancellation fees. A full modus operandi for patron to cancel can be viewed in-salon or while booking online. Please call (216)459-8874, email info@atikastyles.com or use the button on this page to schedule today. Currently no Walk-ins until further notice. Same day appointments are welcomed with a three-hour notice!